It's great that you are interested in the documentary!
Self-organised screenings are taking place around the world.  Permission for free screenings events can be arranged by contacting us. To view upcoming screenings, see our Event calendar (note: not all screenings are listed). To join the CEC Global Screening of Closing the Loop (4-10 March 2019), see below. And for Next Steps, Screening Information, Further Resources and FAQs, scroll down this page.
Cautionary note about REDISA: One of the cases featured in the film was, after our filming was completed, investigated by the South African government for poor governance and financial irregularities by a number of its directors and thereafter placed into liquidation. For further information and advice on how this may affect your screening, see our Explanatory Note here. 
Join the CEC Global Screening of Closing the Loop (4-10 March 2019)
The Circular Economy Club (CEC), the international circular economy network is hosting a global event where anyone will be able to screen the first circular economy documentary in different cities worldwide. Join the Screening Week by filling in this form.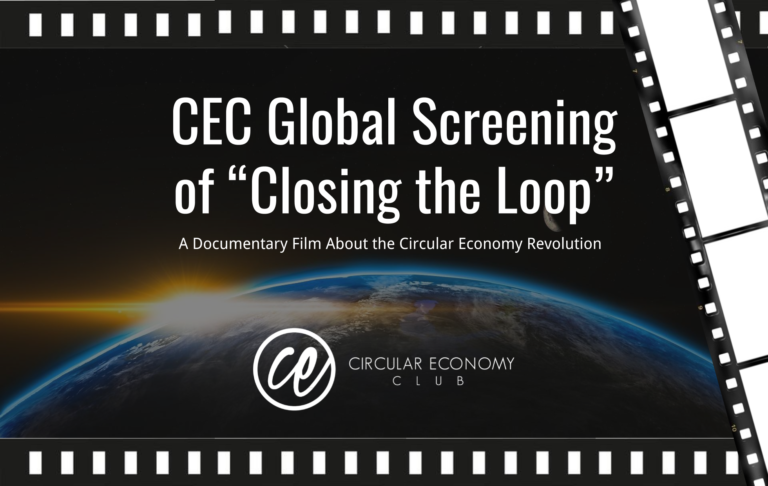 Below you will find the steps to follow, the film screening instructions, links to screening resources, and a list of Frequently Asked Questions (FAQs).
Next Steps
Step 1: Please confirm this information by contacting us as soon as possible so we can list your event correctly on our website:
– Open (public) or Closed (by invitation only):
Step 2: Also, please send us your website listing and event link when they are available and we can link to them to help promote your event. 
Step 3:
Following the event, please send us the number of attendees.

Please let us know if you have any questions. Thank you again for hosting a screening!
Screening Information
For your screening, you can rent or purchase the film for a small fee on Amazon and Vimeo at the links below:
Vimeo On-Demand provides the most international access and the film is available for rent, or for purchase. Once you purchase the film, you will be given the option to download it.
If you stream the film (Vimeo/Amazon), there is the option of English close captions (subtitles). Closed captions are recommended.
If you are planning to use a projector (such as a cinema venue) that can integrate close captions (overlaid subtitles) and the film file, we can send you the closed captions (.srt) file, just let us know.
Screening Resources
Frequently Asked Questions
Are subtitles (closed captions) available in other languages? 
Not currently. Subtitles (closed captions) are only available in English at this time.
How do I use subtitles/closed captioning?
To access subtitles from Vimeo, click on the CC Button in the lower right corner and select English Subtitles.
https://www.useloom.com/share/af0eaa7d1b9e450d8b3d69d43fac0315
Do you have sample discussion questions that we can use with the audience following the film?
Here are a few sample discussion questions:
How do we reconcile making CE inclusive for developing countries and low income consumers vs adopting global best practice which may be more expensive?
How does CE help or hinder with plastics pollution (including micro plastics)? e.g. the Dutch Awearness circular suit is more durable & has a lower multi-life footprint, but eventually plastic accumulates in the environment.
Is circular always more sustainable?
Do we see the rise of CE greenwashing?
Will the new EU Circular Economy Package and Environmental Footprint methodology help address these issues?
What aspect of the film was most inspiring to you?
What is one action you can take to begin moving to a circular economy?