From the Film: Circular Economy Case Study
Barloword – a South African industrial conglomerate, with the second-largest Caterpillar equipment remanufacturing plant in the world
Barloworld developed a 30,000 square meter facility: 20,000 square meters are for the rebuilding of components and the remainder, 10,000, is for warehousing purposes.
According to Lesibana Ledwaba from Barloworld, "A facility like this, you take a long-term view on it when you invest in something like this – you think beyond today, you think the next 20, 30, 40 up to maybe a hundred years. Even though we may have invested a significant amount of money, the returns not only to Barloworld, but to the country, to the world at large, is … you can't quantify that."
The Process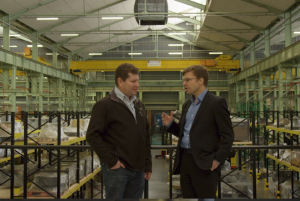 "Once the component arrives here, we disassemble it completely and do an inspection on the component. We determine what parts need to be replaced with new and which parts can be refurbished and reused again. Parts then go through a process of cleaning, refurbishment, and then reassembly. After reassembly, the components are tested, painted, and then it's good-to-go back to the machine like new." ~Dawid Neinaber, Barloworld
"Through remanufacturing, we are able to reduce the cost of doing business, because we are able to give the customers components at a fraction of what it would cost to get a new one. When we remanufacture, it also reduces the load on raw materials, such as iron and steel, and what we can't reuse, we send through for recycling.  So we reuse steel. And we also clean some of the runoff water on the cleaning plant and reuse some of that water for the cleaning process." ~Lesibana Ledwaba, Barloworld
"Depending on the component group, a customer can expect between a 20% and as much as a 60% saving on the price of new. So the benefit is quite big." ~Dawid Neinaber
The Lessons
"I think it will probably be to say let's think beyond profits, because if we don't take care of the environment none of us would be in existence. If we don't take care of the environment, none of us will be around in years to come. And the generations to come will blame us and therefore it's a responsibility that each one of has to make sure that we do our best to minimize the impact of our economic activities on the environment."
"So let's think bigger and also when we become sustainable, we take the costs out of doing business. Those increased profits, we should be reinvesting them to make sure that we become sustainable over many years to come. I am hoping that my children and their grandchildren, when I'm no more around, they would say: you know, we had a group of people who had the foresight to ensure that the economic activities of their companies reduced the impact, the negative impact, on the environment." ~ Lesibana Ledwaba, Barloworld
Learn more about Barloworld and this case study by watching Closing the Loop: A Film Documentary About the Circular Economy Revolution. Available on Vimeo (Worldwide),  Amazon (US), and Amazon (UK). Contact us to schedule a screening in your local community.